This post contains affiliate links and I will earn commission if you make a purchase after clicking on my links, at no additional cost to you.

One of the kids' favorite books is Brown Bear, Brown Bear, What Do You See?
. And I absolutely love listening to the girls "read" it.
In the beginning, Charlotte would read it like, "Brown bear, brown bear, see? Red bird, red bird, see?" And so on.
While Violet would say "Red bird lookin' ah me. Yellow duck lookin' ah me."
They could go through the entire story like that.
To say it was adorable would be an understatement! 🙂
If you haven't read it to your kids yet, I would highly recommend getting it for them!
If you don't have little ones, it would be a great gift for a baby shower or birthday gift!
It is perfect for teaching colors and animals at the same time.
But if you and your children are already fans of Brown Bear and the other Eric Carle books
, you might be excited to hear that Gymboree has launched a limited edition play and sleepwear collection featuring the World of Eric Carle!
How cute are these shirts?

And I love these jammies. I'm thinking ahead that these would make great Christmas presents for the kids!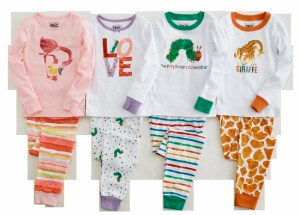 Not only can you find these great items on
Gymboree
's website, they also have
printable coloring and activity sheets inspired by The World of Eric Carle
! So you could read
Brown Bear, Brown Bear, What Do You See?
to your child and then
play a printable memory game of all the animals
, all while
wearing the artwork from the book
! How cool would that be?
So now that I told you that
my
kids love
Brown Bear, Brown Bear, What Do You See?
,
leave me a comment and share your children's favorite Eric Carle book!
It would be interesting to see which one gets the most votes! 🙂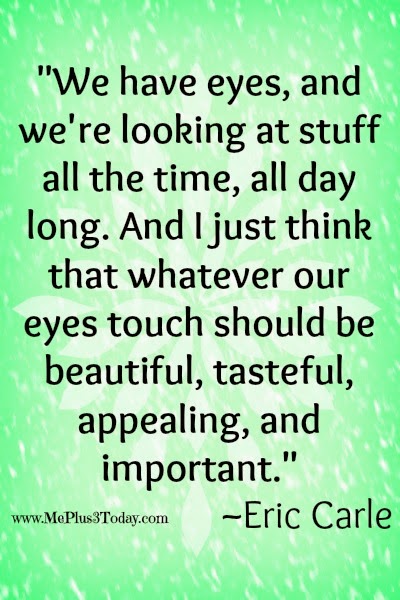 And that's a little bit from Me Plus 3 TODAY!


Subscribe to have the latest post from Me Plus 3 TODAY delivered straight to your inbox!
Enter your email address:
Delivered by FeedBurner
Follow me on Pinterest to see what else the kids and I enjoy!