For your convenience, this post about Halloween costumes for twins or siblings contains affiliate links from which I may make a small commission at no additional cost to you.

One of the best parts of Halloween is dressing up! It has always been so fun to come up with creative Halloween costume ideas. And now that I have kids, I am constantly trying to think of original, coordinating Halloween costumes for twins and siblings. I figured I needed to get them in while I could, before the kids were old enough to start picking out their own costumes!
I mentioned in my post with over 14 Halloween Party Game Ideas that it is one of my favorite holidays. And all year long, I'm on the lookout for clever costumes for the kids. So I decided to put some of the ideas I collected in one place to share. I got a little carried away while writing this, so I have 26 unique Halloween costumes to share, beginning with my kids' Halloween costumes from the last 2 years!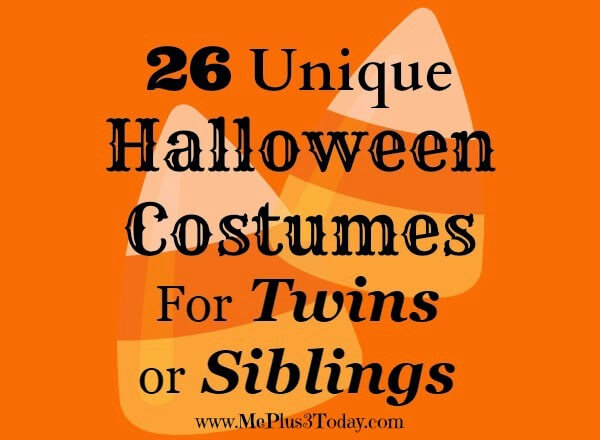 26 Unique Halloween Costumes for Twins & Siblings
1. Cow Costume

The first year with just the twins, I deliberated way too long about what they should dress up as. It finally came down to the last week before Halloween, and I just couldn't decide! So Chaz finally told me I just needed to order something, it didn't matter what it was!
My struggle had been finding something I liked that was in our price range. I didn't want to spend too much on something that they were going to wear once. Plus, the girls were only 10 months old, so it's not like we were going to go Trick-or-Treating. My frugalness finally took over in that last minute decision, and I ended up just settling on an inexpensive cow costume. [This is the Cow costume I purchased.
]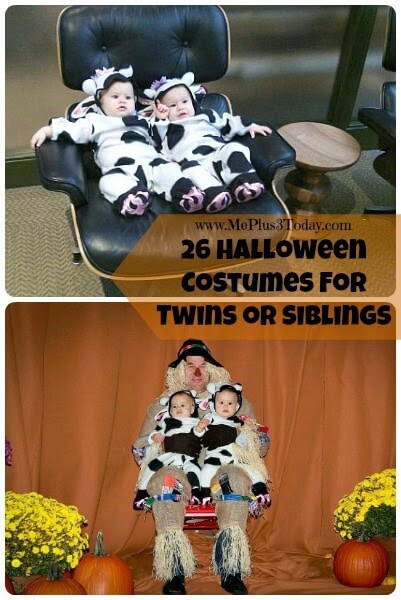 2. Cheeseburger & French Fries
Last year was the first Halloween since Chaz passed away. Seeing the other parents taking their kids out Trick-or-Treating was really tough on me. That was something Chaz and I had looked forward to doing together.
But somehow, I was still able to choose a funny, coordinating costume for the twins. Charlotte was a cheeseburger, and Violet was french fries! Hilarious, right?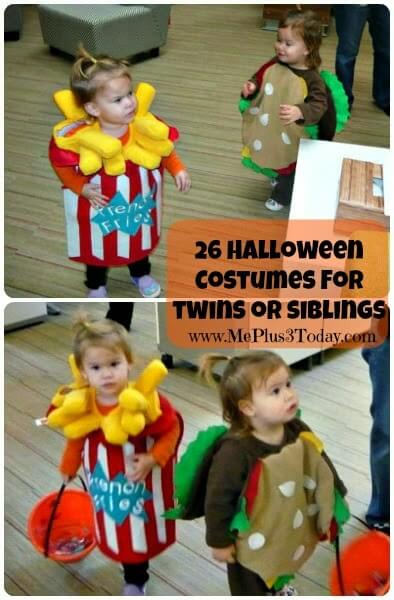 [
Find a Cheeseburger costume here.
]
I couldn't find a costume for Will to go along with them (I had thought about a milkshake), so I settled on his costume as a Biker Baby. It's hard to tell, but it had skulls and a vest, with tattoo sleeves. And I drew a beard on his face with eye-liner… It was actually pretty cute and funny!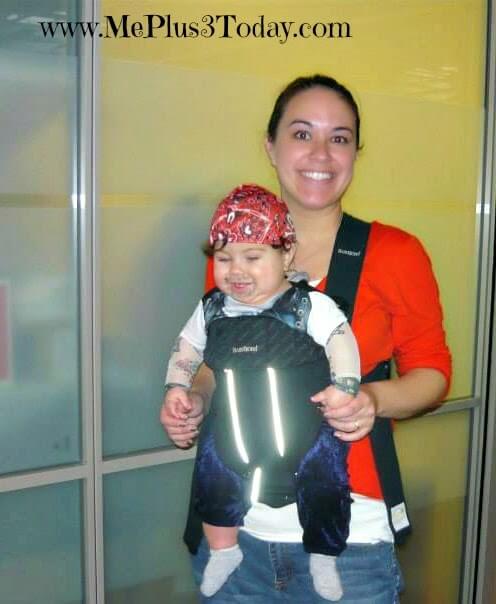 And now here is the rest of my list of 26 Halloween Costumes for Twins and Siblings. Just click each link to see what they look like. I still haven't decided on what the kids will be dressing up as this year, but I'm sure I'll post about it eventually…
3. Traffic Signal & Stop Sign
[Find Traffic light costume here.] [Find Stop Sign costume here.]
4. Pair of Dice
5. Flip-Flops
[Find Flip Flop costume here.]
6. A Cake & a Pastry Chef
[Find a Cupcake costume here.
] [Find Chef costume here.]
7. Bob Ross & A Happy Little Tree
8. The Monopoly Guy & The "In Jail" Corner
10. Colonel Sanders & A Bucket of Chicken
[Find Colonel Sanders wig & beard here.]
11. Eggs & Bacon
[Find Bacon Strip costume here.
] [Find Eggs costume here.]
12. Toothbrush & A Tooth
[Find Tooth costume here.][Find Toothbrush costume here.]


13. Tooth Fairy & A Tooth
[Find Tooth costume here.]
14. Baker & The Ginger Bread Man
[Find an Infant Ginger Bread costume here.] [Find Baker costume here.]
15. Little Bo Peep & A Sheep
[Find Little Bo Peep costume here.
] [ Find Sheep costume here.]
16. Mouse & Cheese
[Find a Mouse costume here.
]
17. Ghostbuster & A Ghost
[Find Ghostbuster costume here.]
18. Curious George & The Man in the Yellow Hat
[Find a Curious George costume here.] [Find Man in the Yellow Hat costume here.]
19. Mr. & Mrs. Potato Head
[Find Mr. Potato Head costume here.]
20. White Rabbit in a Hat & a Magician
[Find White Rabbit costume here.] [Find Magician costume here.]
22. Bubble Gum on the Bottom of a Shoe
23. The Very Hungry Caterpillar and a Beautiful Butterfly
[Find Hungry Caterpillar costume here.]
24. UPS Delivery Person & a Package
[Purchase UPS Delivery Person costume here.]
25. Pirate & Parrot
[Find Parrot costume here.]
26. More than your average Salt & Pepper
BONUS: This was Chaz and my favorite costume together which could definitely be considered for Halloween costumes for twins or siblings. We were Double Dare contestants! Who remembers that show? We'll take the "Physical Challenge," Mark! 🙂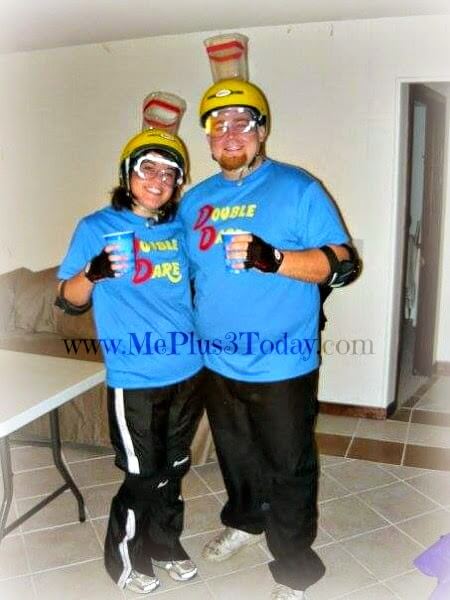 So, what did you think of this collection of 26 Unique Halloween Costumes for Twins or Siblings? What will your kids be dressing up as this year? Let me know in the comments section below!
Follow my Halloween Costumes Pinterest Board for more great ideas!
While you're there, follow my Halloween Food & Fun Pinterest Board too!