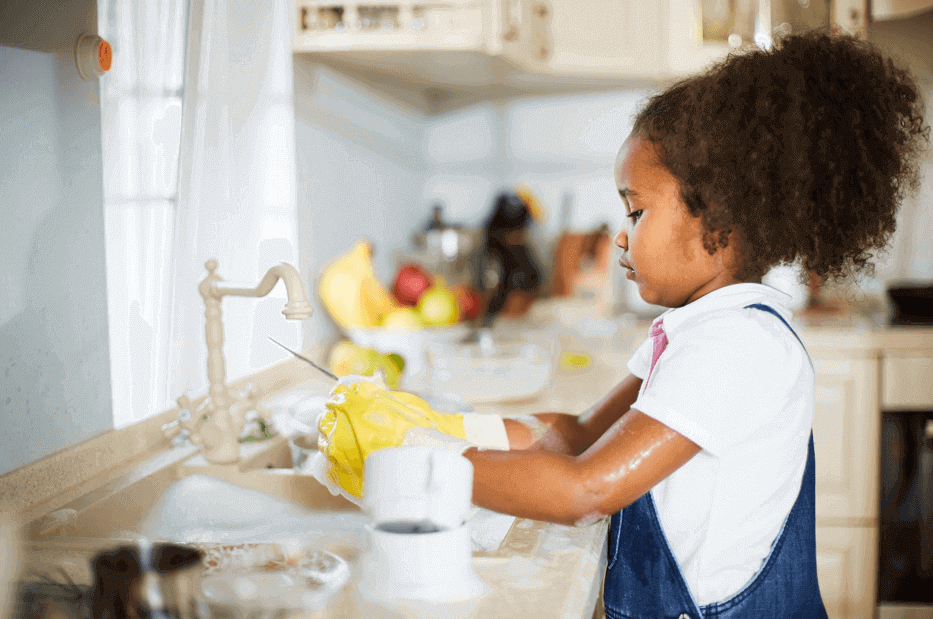 If you are a parent, chances are you've heard many pleas of promising to do chores later from your children. The reality is that we want our children to help with chores around the house, not only because we need the help but also to teach them the true meaning of responsibility. Instinctively, we know that it's important to help them understand that being in a family means we all participate in the household workload for the good of the family as a whole. Families should function as a team, meaning that all of the responsibilities shouldn't only fall on the shoulders of the parents.
So how do we motivate children to complete household chores without the endless struggle? What are some ways to get our children to perform chores and accomplish them in a timely manner without all the begging, badgering, and reminding? Below are some of the ways you motivate your children to help without hassle!
Don't Pay Children for Their Basic Chores!
Children should not be paid for the basic chores they are assigned within the family. Once they are old enough to be physically capable, they should be responsible for cleaning up after themselves, keeping their rooms clean, and performing two or three additional household chores, such as doing the dishes, sweeping floors, and taking out the trash and recycling.
The best course of parental action is to teach children that we all participate in ensuring that our home is a clean, safe, and comfortable environment for the good of the family as a unit. Once these basic chores are performed, however, there can also be a list of extra tasks that each child can complete for payment. Depending on the child's age, it can be something as simple as folding laundry, mopping floors, or running a vacuum. Alternatively, it can be something more difficult like cleaning windows, washing the car, or cleaning the garage.
When implementing this technique, we are teaching our children that they can be financially rewarded for going the extra mile and doing work outside of their general chore list. This is a great way to get some more difficult or time-consuming chores done around the home while your child earns a little cash. This is also helpful when your child comes home and confronts you with the knowledge that they have a friend who is paid for their chores. You can tell them that you are happy to pay them for extra tasks but not for the basic chores that are their responsibility, just as adults don't get paid for basic household tasks.
Toy Tank
If explaining to your child that performing their chores helps the whole family to function as a successful family unit isn't enough to motivate them, which could be a likely scenario, you can try the toy tank. If your child leaves their toys scattered around the house, or all over the floor of their room, and doesn't respond to a verbal warning, you can pick the toys up and "lock" them into the "Toy Tank."
The Toy Tank can be a large box in your closet or something similar. However, to energize their initiative to fulfill their responsibilities, tell your child they must earn the toys back by performing a chore. If this isn't enough motivation, you can set a time limit of one week. If the toys aren't earned back by the end of the week, the entire box of toys will be donated to charity. And stick to it! No matter how difficult this might be, it only takes following through on this consequence one time to teach a child to clean up after themselves.
Earn the Password
This works well for older children who care much more about screen time than they do toys. When school is out for the summer, change your WiFi password each day and don't give it to your children until their chores are completed. This prevents them from procrastinating and teaches them the value of getting work out of the way first, so they can enjoy the remainder of the day.
During the school year, don't give them the password after school until chores are completed.
Again, don't pay your older children for their basic chores. Perhaps do so for anything they are willing to do around the house or yard that is extra, such as mowing the lawn, trimming shrubs, or cleaning out closets.
Weekend Work Party
On the weekend, it's a good idea to get some basic and extra weekly chores out of the way shortly after breakfast. One great way to do this is to turn off all screens and turn on some great music. Listening to music while you work makes the time go by faster and can make work seem more like fun. It becomes fun and can actually make family memories that last forever, as you dance around with a broom or mop and the kids sing along as they work.
Getting the chores out of the way early allows everyone to enjoy the rest of the weekend and teaches the value of not procrastinating and leaving work hanging over your head. Instead, getting it done can foster sentimental value in the long-run and can be enjoyable.
You can add to the excitement by using your kitchen timer to set a time limit for accomplishing weekend chores.
Chores for Chargers
Another brilliant parenting hack for encouraging your older child to complete chores is to hold their phone chargers hostage until the task is completed and done well. While they may still procrastinate, their phone batteries will eventually die and it's a guarantee that chores will quickly be completed so your child can get their charger back. With this method, your child's choice is not excitement or chores. Rather, it is the choice between boredom and chores.
Tasks for Treats
For younger children, you can hold their favorite snacks hostage and tell your child they can earn their snack back once they've finished their chores. Extra treats for extra tasks is also a good reward system—within limits, of course.
It's important to begin teaching your child to do basic chores around the house from an early age, so it becomes a normal part of their routine. Letting a child do simple chores beginning around age three will ensure that they accept it as a normal part of their day, and will save a lot of power struggles later.